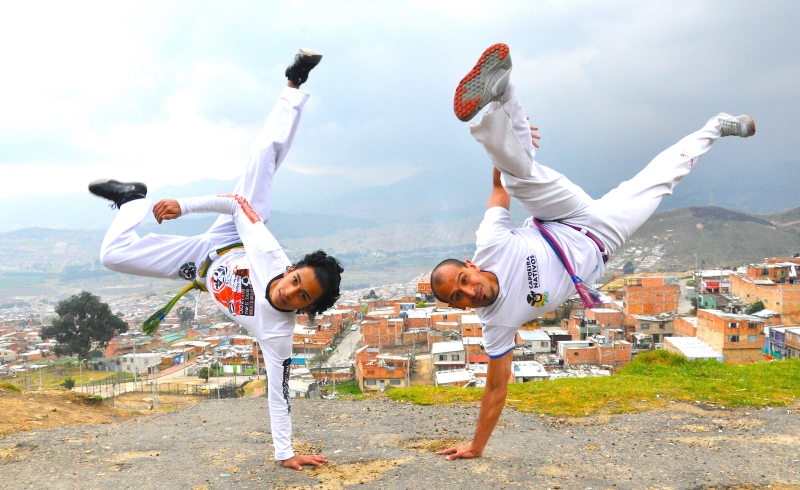 So you have already made a donation to support Nukanti, and you are wondering what else you can do? We have the answer: you can hold your own fundraiser to benefit a particular child, program or the organization as a whole.
No matter how big or small, your fundraiser will help Nukanti to continue building communities through youth empowerment. This is how your fundraising efforts can help advance our programs:
USD 50 can cover a special acrobatics training for a group of 20 youth in our Capoeira program
USD 100 can provide 10 new uniforms or new music instruments for our Capoeira youth in Bogotá
USD 360 can sponsor a child within our mentorship program for a year.
USD 600 can cover a two-month photography workshop for youth in Cazucá, one of the biggest urban slums in Colombia
USD 1,000 can help Nukanti open a new location for its Capoeira program and sustain it for six months, providing employment to the most advanced and dedicated participants in our current groups
Running your own fundraising event is actually easy and a lot of fun! So don't wait any longer and start planning. Here are a few tips from us:
WHAT YOU NEED
Activity: The first thing to consider when organizing a fundraiser is what you would offer people in order to motivate them to donate. It is also important to think of the time frame, potential official permits that might be needed, and a fundraising target.
Space: Based on the type of activity and the projected number of participants you may need a smaller or bigger space. It can be your home, backyard, office or a friend's house, or a local park, cultural center, gallery, co-working space, etc. Be sure that many of them would be open to lending you their space if you contact them well in advance and manage to convince them of the importance of your cause.
Promotion: Don't forget that 50% of the success of any event depends on its promotion! Once you have planned all the details make sure to use all your social media to promote the event among your circles, and ask them to spread the word. Promotion would of course depend on your target group, and it may also include posters, flyers, e-mail announcements, facebook groups, blogs, etc.
TYPES OF FUNDRAISERS
At home: The simplest way to raise funds is to gather friends at home for dinner, a movie night or a themed party, and discuss the cause you would like them to support.
At work: You can also reach out to your colleagues via the company's mailing list, hold a charity sale with items donated by them, organize a raffle or place donation boxes in your office.
Public: Another very effective way to raise funds, which requires a little bit more organization, are public events like sponsored marathons, hikes or cycling tours, garage sales (useful second-hand items donated by your family and friends), bake sales, charity classes (yoga, dance, knitting, basically anything that can be of interest to your target audience). For this type of events make sure to get any potential permits that may be required in advance!
If have an idea about a fundraiser that you would like to organize locally for Nukanti, do not hesitate to contact us at info@nukantifoundation.org. We can help you spread the word and also provide you with some online presentation materials, depending on the availability of our team.
If you have already organized a fundraising event for Nukanti or for another social cause and would like to share your experience and inspire others, please drop us a line and we can post your story on our blog.